Bendigo Autistic Advocacy and Support Service
Meet your Mentors
​

by BAASS
Image description and text:
BAASS and The Lab, Bendigo Logos.

Meet your Mentors!

Image- close up face and shoulders profile view of a smiling person, wavy hair.
Text reads: Lead Mentor: Tony Langdon
My Interests include amateur radio, computers, communication, electronics and networking.
I'm also a keen sportsperson - one minute working on an intricate technical project, the next on the track sprinting.

Image- Front close up of smiling face with short dark hair.
Text reads: Mentor- Martin Flanagan
Just a big kid really!..
..with some of the following interests:
Minecraft, Lego, Pokemon Go & gaming.
I love spending time with my family, numerous pets and am keenly interested in all things mechanical.

Image- Front close up of smiling face with glasses and long dark hair.
Text reads: Mentor: Tiffany Flanagan
My interests include media (film, photography etc.), Disney, art, music (playing and band member), dance and helping people.

Image: Close up of a face with pensive expression, head tilted gazing upwards.
Text reads: Mentor: Denis Kelly
My interests include filmmaking, gaming, computers and making people happy.









Powered by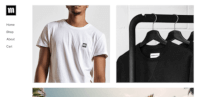 Create your own unique website with customizable templates.